Submitted by on
Author(s):
Mo Manklang, Zen Trenholm, Olga Prushinskaya
Affiliated Organization:
The U.S. Federation of Worker Cooperatives
Description:
In this moment of crisis, worker cooperatives are a reliable, proven solution to address the loss of jobs and income inequality.
COVID-19 has devastated the small business community, and the clock is ticking on permanent shutdowns of small businesses. 45 percent of businesses believe they have less than six months until a permanent shutdown is unavoidable. Tens of millions are still unemployed. Millions of Americans will fall off an "income cliff" when unemployment benefits end.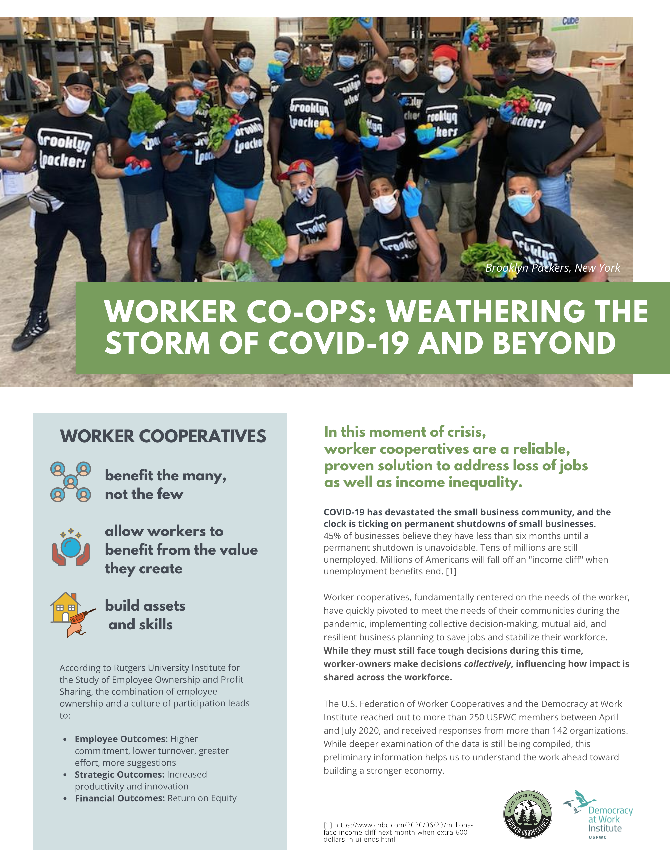 Worker cooperatives, fundamentally centered on the needs of workers, have quickly pivoted to meet the needs of their communities during the pandemic, implementing collective decision-making, mutual aid, and resilient business planning to save jobs and stabilize their workforces. While they must still face tough decisions during this time, worker-owners make decisions collectively, influencing how the impact is shared across the workforce.
The U.S. Federation of Worker Cooperatives and the Democracy at Work Institute reached out to more than 250 USFWC members between April and July 2020 to assess how worker cooperatives are withstanding the effects of COVID-19. We received responses from more than 142 organizations. While a deeper examination of the data is still being compiled, this preliminary information helps us understand the early impacts of the pandemic and the work ahead to build a stronger economy.
Download the report by filling out the form below.
Curated Tools:
Resources for Start-Ups
Resources for Existing Worker Coops
Resources for Conversions
Resources for Coop Developers
Resources for Communities