Submitted by on
Author(s):
Democracy at Work Institute
Description: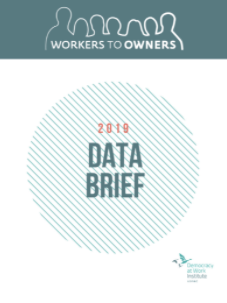 The Workers to Owners 2019 Data Brief data brief represents a snapshot of member activity through 2019. It includes two years of member activity prior to the collaborative's formal establishment. These years collectively depict a modest increase in completed ownership transitions over a six-year period. This trend demonstrates improved strategies developed within the collaborative, as well as the growing perception of employee ownership as a viable option for exiting business owners. This data brief also demonstrates tangible impacts to communities, including the 980 paths to business ownership created through completed employee ownership transitions.
The data included in this report has been reported by members and analyzed by Democracy at Work Institute. 
 
Curated Tools:
Resources for Conversions
Resources for Coop Developers