Posted on October 30, 2020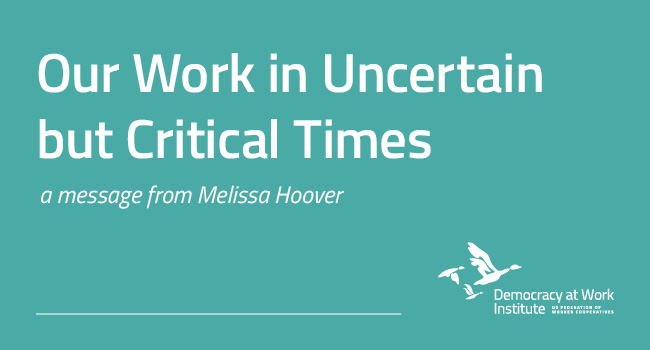 "The worker cooperative sector needs your ambition to be not merely a tool or an alternative, but the bones, blood and muscles of a just and healthy economy."
---
Dear colleagues, 
I'm writing to share some changes in the works at DAWI, to reconnect about our shared work, and see what's possible in uncertain but critical times. 
2020 has a way of showing us stark realities about ourselves. The multiple overlapping crises in our public health, our economy, and our democracy have caused widespread acute pain, but in reality we've been running a fever for awhile. The economy is sick, it made us sick, and it sickened the body politic. Never has it been clearer that, as the saying goes, when America catches a cold, Black Americans get pneumonia. Never has it been clearer that the work of caring for our sick falls to undervalued, underpaid (often unpaid) workers, especially women. 
What lies ahead is a sustained effort to rebuild and recover. But first there is likely to be much more damage to local economies and communities. Midway through a small business apocalypse, federal aid is not forthcoming, unemployment is in double digits and half of Black-owned businesses have closed for good. So much is uncertain. But I know one thing: simply "rebuilding" an economy that failed to support workers in the first place puts us on track for ever-escalating economic and political crises in which 2020 will be a watershed moment. We have to do better. 
At the Democracy at Work Institute we feel a profound need to approach the response and recovery work with ambition that matches the scale of the crisis. Today, I am announcing that DAWI is concentrating our work with both a greater urgency and a longer-term strategy. 
We are committing to urgent solutions -- crisis-informed models for employees to buy their businesses, rapid response cooperatives for unemployed workers, targeted assistance to strengthen existing worker cooperatives, and robust resources to meet the growing interest in shared ownership models.
We are also committing to systems change -- integrating a wide variety of shared ownership forms into the long-term recovery by working with institutions that will determine the shape of that recovery, from city governments to the Department of Labor to local lenders and investors.  
DAWI is not changing what we do as much as how we do it, implementing three priorities in all programs: (1) Demonstrate new forms and approaches, (2)  Enable other organizations, and (3) Embed these strategies in institutions and movements. We are also strengthening our strategic alignment with the U.S. Federation of Worker Cooperatives, the national grassroots membership group, with whom we have always worked closely.
DAWI does not have the answers. We have some good ideas, a humble approach to learning together with integrity, and a commitment to persevering through the setbacks that await us. Experimenting boldly means we may fail. Building strategic partnerships means we may find ourselves with unlikely allies. But the most profound risk now would be to try nothing new. 
This moment is heartbreaking and scary, but it also presents opportunities. People are looking for solutions. The worker cooperative sector has a solution. It's proven, it works, and it needs a lot of support at the moment. But most of all it needs your ambition -- to be not merely a tool or an alternative, but the bones, blood and muscles of a just and healthy economy. An economy in which working people own their jobs, communities own their assets, and we all participate in the decisions that matter. A green new economy grounded in racial justice. Our economy. 
Now we invite you, our field collaborators new and old, to join DAWI in meeting the moment with both urgency and strategy. Only together can we be as bold as we need to be, take chances that need to be taken, and change systems that need changing. 
We will roll out the elements of our programmatic vision in the coming weeks and months; stay tuned. Or even better, get in touch and let's work together. Reach out to me or any of our incredible staff to start the conversation. 
Melissa