Posted on
The Workers to Owners 2017 Annual Impact Report, produced by the Democracy at Work Institute, covers context and data from the collective effort of a team of business, cooperative, community development, finance, and nonprofit sectors to promote cooperative employee ownership. The report includes the context for the collaboration, data points tracking the worker cooperative sector over the last three years, and analysis of the group's progress.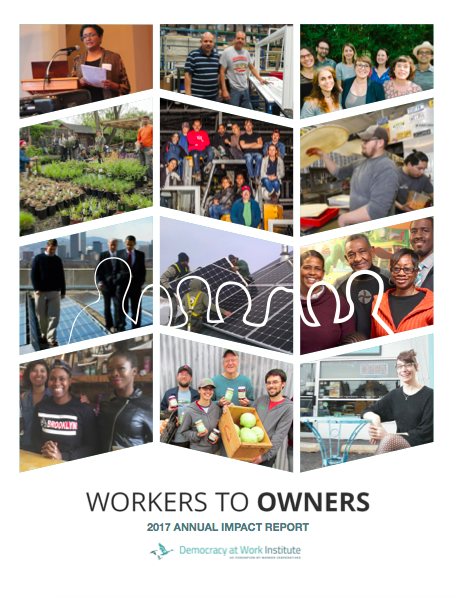 "The collaborative came together in 2016 to respond to a moment of generational opportunity. In the next 15 years, hundreds of thousands of businesses employing millions of people will be sold, consolidated or closed as Baby Boomer business owners retire. Our goal is to ensure the safety of these community economic anchors and local jobs, and to catalyze a wave of business conversions to cooperative employee ownership, which has been proven to increase equity in our most vulnerable communities" says Democracy at Work Institute Executive Director Melissa Hoover.
This report shows tangible outcomes of the worker cooperative model, including growing press coverage, interest from minority business support organizations, implementation by the economic development community, and policy support at federal, state, and regional levels. The data contained in this report includes the latest data available, with the majority of information through Q2 of 2017 and select information we have collected from Q3 2017. 
Throughout the report we see a coordinated, strategic effort that, even in its short life, has moved the dial on employee ownership conversions, raising awareness and enlisting partners. The report points toward a promising future, prompting a greater investment of time and resources paired with a close eye on trends and deeper analysis.