Posted on
Having launched a social enterprise program centered on cooperatives and shared ownership, Pine Ridge Reservation's
Thunder Valley Community Development Corporation
and
Thikaga Construction Company
were eager to better understand shared-ownership values and best practices. As they came to find, learning from a more established cooperative in the same industry is one of the best ways to support a vision for growth, community impact, and shared ownership. To facilitate their learning, Democracy at Work Institute's Rebecca Bauen coordinated a study trip for Thunder Valley and Thikaga Construction. Staff from form the two companies traveled 2,000 miles from South Dakota to the coast of Massachusetts, meeting up with Rebecca and worker-owners from Martha's Vineyard's 
South Mountain Construction Company
—a 3-decade-old worker cooperative that was named the
top-ranked B Corps in the U.S.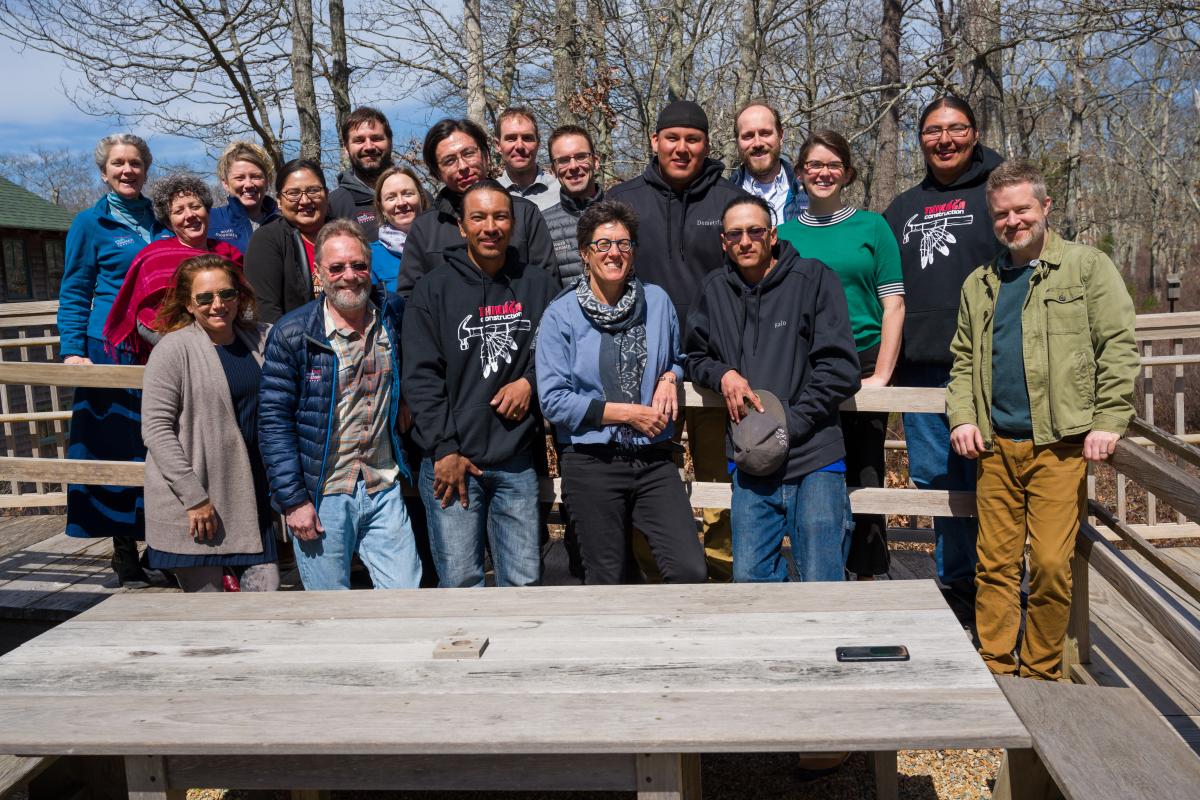 Together, Rebecca, staff from Thunder Valley, and Thikaga Construction joined were immersed in full-day session and project tour hosted by South Mountain, who welcomed the Lakota tribe members with open arms. They shared the success and challenges of worker ownership, including issues related to the company's personnel, ownership, growth, marketing, and safety over the past 30 years.
"The reason South Mountain has been in operation for 30 years is they are able to identify problems and find solutions to fix that problem," highlighted Thikaga Construction's Demetrius Blackbull. "I really admire their determination to keep their company going and keep a positive environment and keep close communication with each other."
What began as a study trip for Thunder Valley and Thikaga and Thunder Valley quickly transitioned into a peer-exchange as Thikaga staff shared their on-the-job knowledge and work experiences. Thunder Valley staff also shared the collective experience of their tribe on the Pine Ridge reservation, including the impact of recent flooding and the longer-term impact of historical trauma as they work to improve conditions through several initiatives. Thikaga Construction Company is a result of their efforts, and the enterprise is already having a positive impact on the community. In its single year of business, Thikaga has built 16 affordable and environmentally friendly homes on the reservation.
"This is an amazing project that involves ownership and high-performance construction, which is such an inspiring thing in what they describe as a landscape that can be pretty bleak. I hope to visit somehow and hope there is some kind of exchange program that goes back and forth," says South Mountain Company's Newell Isbell Shinn. "I would really like to teach our carpenters about safety practices. It is amazing to see a 1-year-old company that is 50 years ahead of where we are in some of our basic safety practices."
South Mountain worker-owner Rob Meyers was also moved by Thunder Valley and Thikaga's work.
"This day fed my soul. It was amazing to meet this group of individuals that are so motivated, mission-driven, cohesive. They are almost one organism in the way they talk about what they are doing and this tremendous humility. This is inspiring to me.," Rob said.
Since Fall 2018, Rebecca has visited Thunder Valley at their Pine Ridge Reservation home in South Dakota twice. She has provided training to the Lakota tribe on cooperative development design and worked directly with Thunder Valley's Thikaga Construction Company on shared ownership. 
"Employee ownership means we are striving to build our company with the hearts of the workers, not just their labor," said Jefrey Catches, co-founder of Thikaga Construction Company. "We want to have a company that is owned by natives, that is owned by our people. We are going to own our own business to strive to build for communities that don't have enough homes, people living in houses with multiple families. Having this employee-owned company, the employees are more into it, their heart is in it because they have a piece of it. They know they have no choice but to keep it going because that is their job and their lives now."
The peer-to-peer exchange trip also included an exchange with the Martha's Vineyard's Wampanoag Tribe of Aquinnah, and helped confirm for Thikaga that there is much to learn, much to offer, and that success means continuing to engage in similar exchanges with companies.