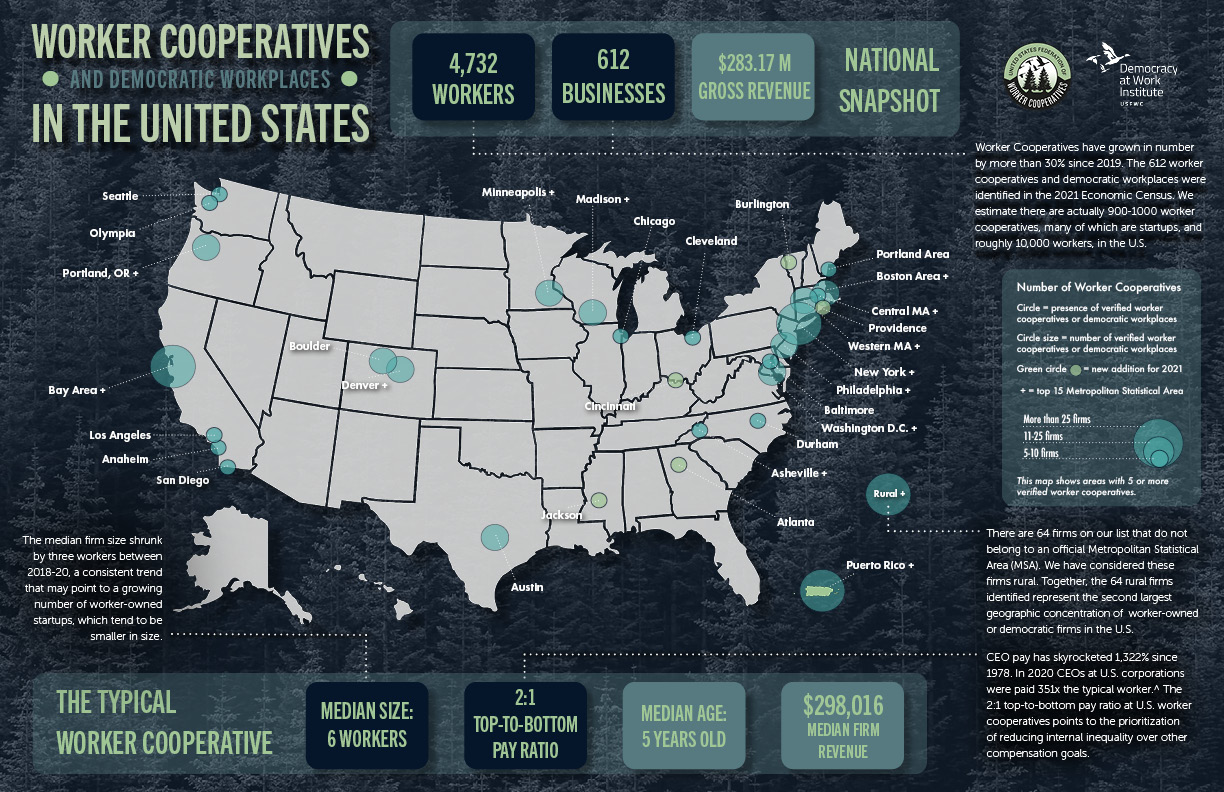 In 2021, DAWI and the U.S. Federation of Worker Cooperatives surveyed more than 180 worker cooperatives and democratic workplaces as a part of our bi-annual economic census of cooperatives. Our survey revealed how worker cooperatives fared during COVID-19, how worker cooperatives are getting started, and where they exist in the U.S.
Included in our analysis is the location of firms across the country. We grouped firms belonging to Metropolitan Statistical Areas (MSAs)—which are represented on our map (see right) by blue circles—and states home to the most worker-owned firms. While our analysis shows firms continuing to rise in number along the western and eastern coasts, there is notable growth in midwest and southern communities, including Madison, Wisconsin; Minneapolis Minnesota, and Cincinnati, Ohio. 
Overall, the 612 worker cooperatives we identified represent 30 percent growth of worker-owned small businesses since 2018. These firms represent our best count of the firms we know to exist; however, the U.S. Federation of Worker Cooperatives and DAWI estimate there are closer to 900-1000 worker cooperatives nationally, many of which are startups. Based on the number of firms identified in our census, these are the top six states and territories where worker cooperatives operate:
New York - 110 firms
California - 99 firms
Puerto Rico - 57 firms
Massachusetts 53 firms
Washington 26 firms
Wisconsin 25 firms
See our full list of firms in our new report: 2021 State of the Sector: Worker Cooperatives in the U.S.
Submitted by on