Democracy at Work Institute Board President and worker-owner at Opportunity Threads, Molly Hemstreet, spoke at the U.S. Regional World Meeting of Popular Movements in February, a convening of faith and social justice movement leaders. She gave the below address at the meeting.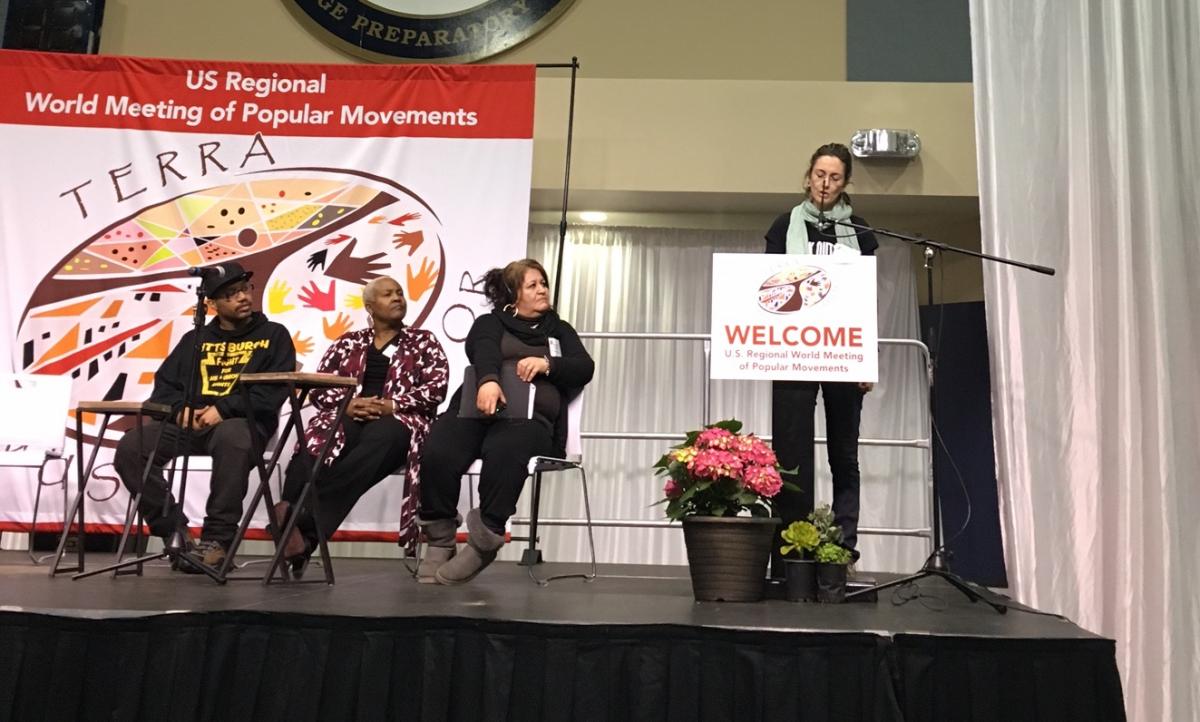 My name is Molly Hemstreet.  I am from Morganton—a town in Western North Carolina.
During the late 1990s to early 2000s our surrounding community lost 47,000 jobs.  These were good manufacturing jobs.  When my second son was born in the hospital in 2012, 7 of the 15 children in the nursery were addicted to meth.  This is something that happens when hope gets turned inside out for a whole community.  There is addiction, violence and blaming other communities for one's hardship.  
There are many people, particularly in the southern United States, that have let hopelessness, fear and hate define a story that is one of loss and frustration.  This breaks my heart and doesn't tell a full story.
But it has been in the face economic loss that we asked "how can we bring WORK back differently."  My allies in building a new vision of southern labor are my Mayan, indigenous, immigrant co-workers.  Together we have built Opportunity Threads, a strong worker-owned cooperative in the heart of southern textile country.  We own our means of production. We are a racially mixed workforce defining a new face of southern labor.  
The Catholic Church and the Catholic Campaign for Human Development have been our unrelenting allies in this venture.  They have magnified our strength.  Now small industrial shops, with workers of all backgrounds, across our region are asking how to convert their shops to be worker-owned.  Together we are building an economy for everyone~ one industrial plant at a time.  
So, I am here at this Gathering to share our story.  
I am here as a rural, southern, white woman to deepen my listening and role as an ally and to lift up my voice as an industrial worker.  
I am here to listen and learn on behalf of my fellow delegates that were unable to travel due to presidential executive orders promoting fear and uncertainty.
I am here to remember that the challenges of my community are connected to the challenges of your community.  Your solutions are my solutions too.
I am here at this Gathering to implore the faith community to support both the mounting resistance to state-sanctioned discrimination and simultaneously to help build and strengthen a fair economy which creates doorways of opportunity for people on the margins and ceilings of admonishment for those with more than their fair share. 
I am here to remember that economic and social solutions must also confront the sickness of racism for those that are sickened by internalized racial superiority and those that suffer exclusion.  
I am here at this Gathering to ultimately return to my home stronger, with more ideas, tools, strategies and hope as we work to build a just future for everyone.  
I am so thankful to be here and I look forward to meeting all of you.
---
For more on the meeting, visit popularmovements.org. To learn about Opportunity Threads, visit opportunitythreads.com.
Submitted by lbrown on February 27, 2017