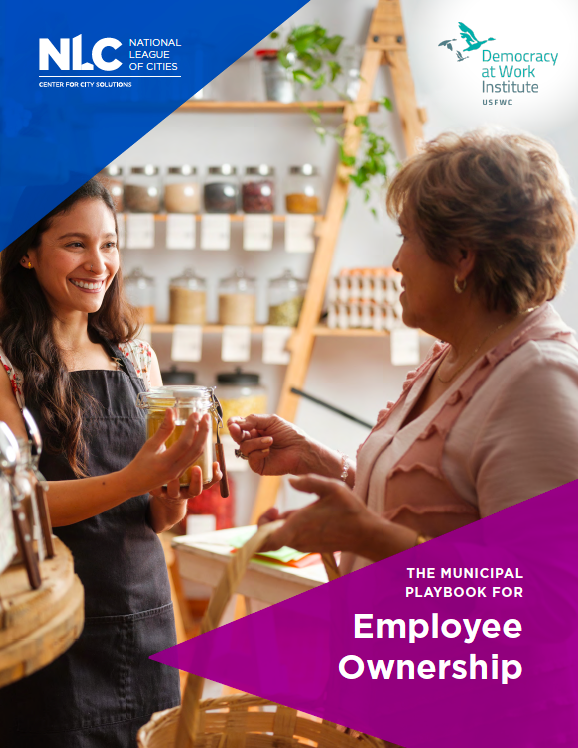 As cities work to address today's challenges with an eye toward future economic growth and stability, employee ownership offers significant benefits as a cornerstone of municipal economic and workforce development strategies.
Employee ownership is a well-established economic development tactic with a strong record in saving jobs and helping workers build wealth. The most common forms of employee ownership are Employee Stock Ownership Plans (ESOPs) and worker cooperatives. These models anchor essential production and services in communities, retain jobs, and preserve and grow the local tax base.
The benefits to municipalities of integrating employee ownership into an economic and workforce development strategy include:
Job security and business stability
Employee owners are six times less likely to be laid off than non-employee-owners. Long-term employee-owned businesses can stabilize communities, save jobs, expand consumer purchasing power, and help businesses remain locally rooted.
Higher wages
Employee owners making less than $30,000 have, on average, a 17 percent greater median household net worth and a 22 percent higher median income from wages than their non-owner peers.
Asset building   
In a 2018 survey of employee-owned firms, workers nearing retirement had on average $147,522 in retirement savings from their ownership stakes. In contrast, more than one-third of all workers nearing retirement have neither retirement savings nor a defined benefit pension.
Quality jobs 
Cooperative Home Care Associates (CHCA) is a New York-based home care agency. Employee-owned and operated, CHCA retains workers four to five times longer than the average home care agency, which is an industry that typically struggles with high turnover and uneven job quality.
For cities interested in integrating employee ownership into economic and workforce development strategies, DAWI and the National League of Cities produced the Municipal Playbook for Employee Ownership. The playbook offers three approaches to address challenges many cities face: supporting legacy businesses ownership transitions, creating quality jobs for workers locked out of good jobs and business ownership opportunities, and using secondary cooperatives to foster small business resilience and growth.
Submitted by on