Posted on April 9, 2015
On April 23, worker cooperative leaders from around the country will convene in Denver for Worker Cooperatives in Focus, a day of events co-hosted by the Democracy at Work Institute and the National Center for Employee Ownership. This exciting event will address a range of cooperative development topics centered on bringing the worker cooperative movement to scale, including cooperative ownership transitions, capital access, and the intersection of worker cooperatives and employee stock ownership plans (ESOPs).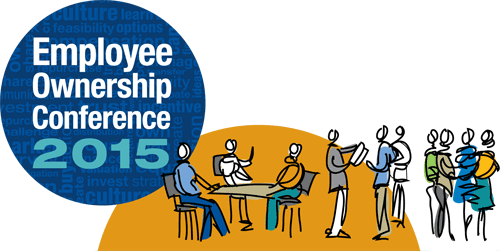 The morning sessions are part of the Employee Ownership Conference. Thursday registrants can attend the suggested sessions below or any of the concurrent sessions offered at those times. We will be webcasting the afternoon sessions including lunch. We would like to thank the Denver Foundation for its generous sponsorship of this event.
Schedule
Breakfast: 7:45 am – 9:15 am in the Plaza Ballroom
 
Suggested Morning Session 1: 9:15 am - 10:30 am: What Coops and ESOPs Can Learn From Each Other: Governance, Financing, and More

Melissa Hoover, Executive Director, Democracy at Work Institute
Loren Rodgers, Executive Director, National Center for Employee Ownership
​

Suggested Morning Session 2: 10:45 am - 12:00 pm

: Socially Responsible Businesses and Employee Ownership

Blake Jones, CEO of Namaste Solar
Camille Kerr, Director of Field Building, Democracy at Work Institute
 

Lunch: 12:00 pm – 1:00 pm: The Denver Worker Cooperative Ecosystem (Sponsored by the Denver Foundation)

Jeff Ambs, Executive Director, Rocky Mountain Employee Ownership Center
Patrick Horvath, Deputy Vice President of Programs, The Denver Foundation
Linda Phillips, Attorney at law
 

Afternoon Session 1: 1:00 pm - 2:00 pm: Worker Cooperative Conversions: The Cooperative ESOP and Other Simplified Transaction Structures for Easier Replication

Joe Davis, General Counsel, New Belgium Brewing
Dave Hammer, Executive Director, ICA Group
Melissa Hoover, Executive Director, Democracy at Work Institute
Loren Rodgers, Executive Director, National Center for Employee Ownership
​

Afternoon Session 2: 2:15 pm - 3:45 pm: The Changing Capital Landscape: New Options for Financing Cooperative Conversions

Andrea Armeni, Executive Director, Transform Finance
Elizabeth Bauer, CEO, Gilded Rogue Enterprises
Maggie Cohn, Loan and Outreach Officer, Coop Fund of New England
Camille Kerr, Director of Field Building, Democracy at Work Institute
Jason Weiner, Attorney at Law
Steve Wong, Project Officer, The Working World
 

Afternoon Session 3: 4:00 pm - 5:00 pm: Straight from the Source: Practitioners and Business Owners Discuss Lessons Learned in the Field    and Answer Questions

Rob Brown, Cooperative Development Specialist, Cooperative Development Institute
Alison Lingane, Co-Founder, Project Equity
Joe Rinehart, Cooperative Developer, Democracy at Work Institute
Jeremy Shannon, CEO, Build with Prospect
Alan White, President, Island Employee Cooperative