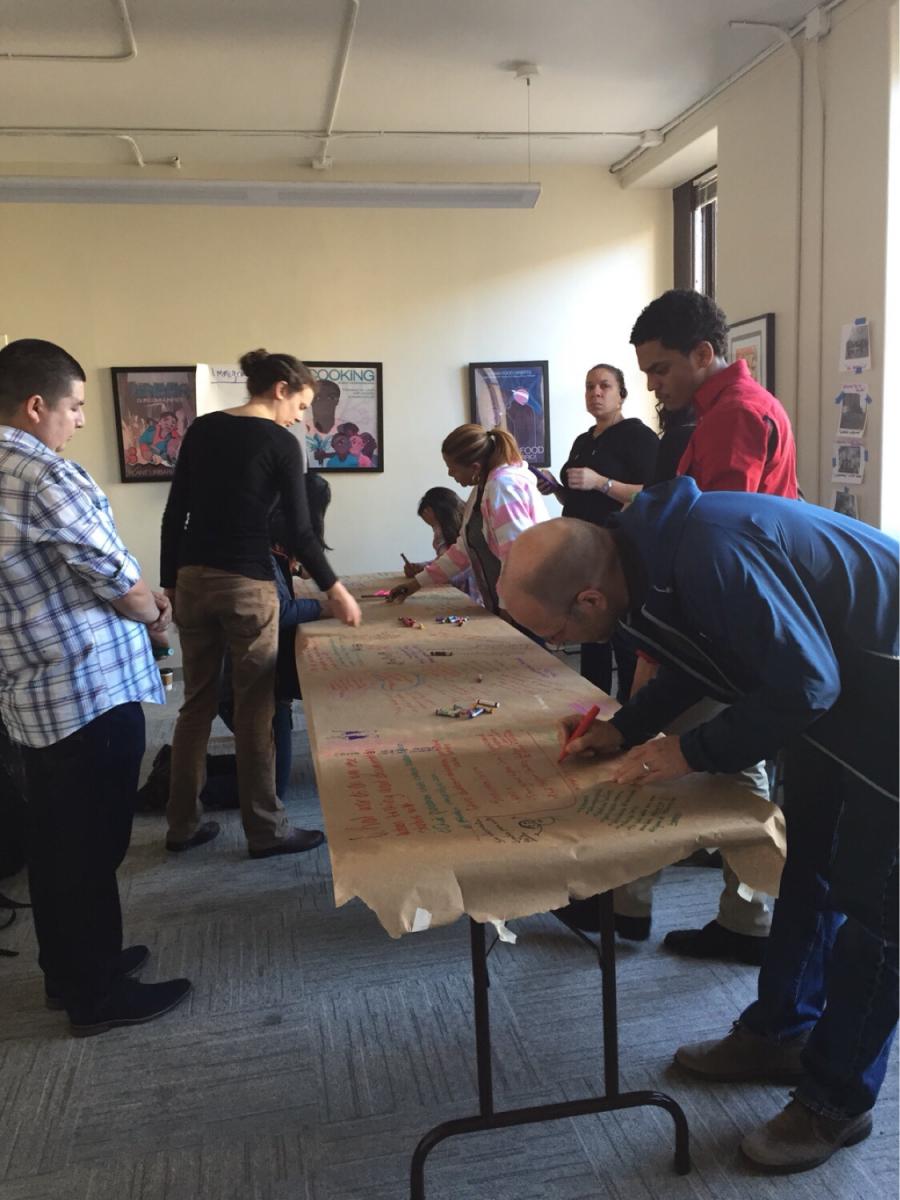 2016-2017 Líderes Cooperativistas en Acción (LCA) (Fundamentals in Spanish)
The cohort joining the Institute for 2016-2017 includes:
Anahi Rojas, Prospera, California

Armando Robles, New Era Windows Cooperative, Illinois

Bianca Sanchez, TeamWorks Cooperative, California

Clara Calvo, Cooperative Home Care Associates, New York

Elizabeth Arredondo, TeamWorks Cooperative, California

Eulalio Guevara, A Yard & A Half Landscaping Cooperative, Massachusetts

Euridici Hernández, Cooperative Home Care Associates, New York

Josefina Luna, CERO Cooperative, Massachusetts

Marisol Cruz, Sí Se Puede! Women's Cleaning Cooperative, New York

Patricia Gonzalez-Ramirez, Caracol Interpreters, New York

Rodrigo Cala, Shared Ground Farmers' Cooperative, Minnesota

Teresita Perez, Sí Se Puede! Women's Cleaning Cooperative, New York

Yadira Fragoso, cleaning product coop, New York
El sector de cooperativas de trabajo que está creciendo más rápido en los últimos 10 años son las dirigidas por inmigrantes e hispanohablantes. Ha crecido el interés entre los miembros de las cooperativas inmigrantes para conectarse uno al otro. En adición a de desarrollar un enlace y relaciones, los dueños trabajadores están buscando aprender de los demás cooperativistas y enseñar a otros lo que han aprendido a través del tiempo. Como dice el viejo dicho, "La unión hace la fuerza." El entrenamiento de Líderes Cooperativistas en Acción (LCA) (Fundamentals in Spanish) crea la base para que usted pueda satisfacer esa necesidad. El grupo que se seleccionado asistirá colectivamente 3 reuniones en persona, 5 talleres en línea (online), y participara en un proyecto independiente. Los participantes fortalecerán sus habilidades como líderes y asesores para apoyar a sus propios negocios, a nuevas y maduras cooperativas, y las empresas que se han convertido a ser cooperativas de trabajo.
El entrenamiento está diseñado para: 
Miembros de cooperativas de trabajo que le gustaría ser asesores y tomar un papel de liderazgo en avanzar el campo de las cooperativas dirigidas por inmigrantes.
Competencias, análisis, y práctica en grupo pequeño
La comunidad de aprendizaje en grupo pequeño se llevará a cabo durante un período de ocho meses. Se espera que los participantes asistirán a todos los aspectos del programa, incluyendo:
3 reuniones en persona de fines de semana, todos en New York City. 

5 talleres en línea (online)

Un proyecto auto seleccionado para desarrollar y/o fortalecer una habilidad y luego hacer una presentación al final del curso (máximo 30 horas de trabajo)

A cada participante se le asignara una pareja para que se proporcione tutoría con respecto a sus objetivos personales.
Oportunidades de liderazgo
El entrenamiento se centrará en aumentar sus competencias y desarrollar un análisis del sistema para hacerse líderes en diversos espacios:
El Concilio de miembros asesores de pares hispanohablantes de la La Federación de Cooperativas de Trabajo de los Estados Unidos (USFWC).

La Colaborativa Estratégica de Cooperativas Dirigidas por Inmigrantes.

 

La mesa directiva de coaliciones locales y de la USFWC.
---
Líderes Cooperativistas en Acción (LCA) (Development Fundamentals in Spanish)
The fastest growing sector in the past 10 years of worker cooperatives are immigrant-led and Spanish-speaking. There has been an overwhelming interest among these worker owners to connect with one another. Beyond developing a bond and building relationships, worker owners are seeking to learn lessons from fellow cooperators and teach others what they've learned along the way. As the old saying goes, "La unión hace la fuerza" (union creates strength). The Líderes Cooperativistas en Acción (LCA) training program lays a foundation for you to meet that need. The cohort that's selected will collectively attend 3 in-person retreats, attend 5 online workshops, and partake in an independent project. The participants will evolve into leaders and trained peer advisers that support their own businesses and the growing need in startups, mature cooperatives, and conversions.
This training is designed for:
Spanish-speaking members of worker cooperatives who would like to pursue becoming peer advisors and taking on leadership roles in advancing the field of immigrant-led cooperatives. 
Skills, analysis, and practice with a small cohort
The cohort-based learning community will take place over an eight-month period.  Attendees are expected to attend all aspects, including:  
3 in-person weekends, with day-long trainings, all in New York City. 

 

5 facilitated online workshops.

Self-selected project to develop/strengthen 1 skill and then presented at the end of course (max 30 hours of work).

A buddy system to provide peer mentorship on personal goals
Leadership opportunities
The training will focus on skill building and developing a system analysis to become leaders of multiple platforms:
The US Federation of Worker Cooperatives (USFWC) Spanish Member Council of Peer Advisors

The Immigrant Cooperative Leaders' Collaborative

Board of Director for local chapters and the USFWC.