Posted on January 22, 2016
DAWI welcomes our 2016 Worker Cooperative Developer Fellows!
The Democracy at Work Institute is pleased to announce the selection of the 2016 Worker Cooperative Developer Fellows.  Over the course of this six-month program, DAWI Fellows will create a cooperative development project plan, learn from best-practice examples of scaled cooperative development projects, test out new tools, and build relationships with their colleagues in the field.
The 2016 Fellows roster reflects a diversity of expertise, thought, development models, communities served, regional representation, and backgrounds. Fellows all share a commitment to addressing systemic economic and racial injustice though community wealth building and the development of worker cooperatives.
The cohort of Fellows joining the Institute for 2016 includes:
 B. Anthony Holley, The Cooperation Group, Michigan
Dee Washington, Winston Works! Coop Academy, North Carolina
Jonah Fertig, Cooperative Development Institute, Maine
Mariela Quesada Centeno, Centro Hispano of Dane County, Wisconsin
Najari Smith, Richmond Coop Incubator, California
Paul Chander, Center for Community Based Enterprise, Michigan
Peter Frank, Philadelphia Area Cooperative Alliance, Pennsylvania
Tyler Jenkins, Carolina Common Enterprise, North Carolina
Tori Kuper, WorkHive Worker Cooperative Development Center, New York
Xochitl Espinosa, Telpochcalli Community Education Project, Illinois
Yacanex Posada, Enterprise Foundation, California
Zen Trenholm, Democracy at Work Institute, California
The mission of the Democracy at Work Institute is to expand the promise of cooperative business ownership to reach communities most directly affected by inequality. As the only national organization dedicated to building the field of worker cooperative development, DAWI works to ensure that worker cooperative development in economically and socially marginalized communities is adequately supported and strategically directed. Our 2016 Fellowship for Cooperative Developers strategically supports the expansion and impact of worker ownership in low-income communities.
The 2016 DAWI Fellowship Program is underwritten by grants from the Catholic Campaign for Human Development, USDA Rural Cooperative Development Grant Program and the Surdna Foundation.
About the 2016 Cooperative Developer Fellows
B. Anthony Holley

B. Anthony Holley is a community organizer, entrepreneur, and cooperative developer born and raised in Detroit, MI.  He attended Detroit Public Schools and completed his B.S. in Entrepreneurship from Hampton University.  B. Anthony returned to Detroit to support community revitalization and entrepreneurship in the city. As the co-director of The Cooperation Group, B. Anthony works to develop local cooperative businesses and worker co-op pipelines. The Cooperation Group is a nonprofit organization that grows local assets and economic capacity by developing sustainable, community-owned businesses controlled by the people who use their services.   B. Anthony delivers cooperative development presentations at conferences around the country.  B. Anthony's goal is to support communities with understanding and implementing sustainable business practices and cooperative community building initiatives.
B. Anthony is founder of Conscious Community Cooperative (C3), a grassroots self-sufficiency organization, which provides awareness programs on cooperative economics, emergency preparedness, and incubation of sustainable community projects. C3's incubated positive news station Readyo Radio is an online tv station platform and outlet for community leaders to share strategies of sustainability.  B. Anthony's quote "Realize Your Wealth: UnLimit Yourself!" speaks to the abundance of resources often existing in our communities in the form of places, people, and skills.  B. Anthony Holley's work echoes the motto of Conscious Community Cooperative: "The Only True Currency is Community."
Dee Washington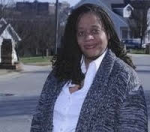 Former Video Producer & Entrepreneur turned activist; Dee Washington has been working in low-wealth communities in Winston-Salem for over ten years. Her previous experience in marketing for government anti-terrorism agencies, financial institutions, fundraising campaigns, and non-profit organizations shaped her view that social justice truly happens when communities take collective economic action on a local level.
Over the past eight years, Dee has worked for a local nonprofit that specializes in Asset-Based Community Development and Grassroots Grant making. Throughout her career she has served as an organizer, small grants coordinator, technical assistance provider and lead trainer. Her work in developing community-based training has gained national attention from the United States Department of Housing and Urban Development and the United Way of Forsyth County. Her passion for social and economic justice has led her to start the grassroots group Winston Works! Co-op Academy— "making Winston-Salem work… for everyone".
Over the past year, Dee has worked with two start-up coops, converting one from a social enterprise to a hybrid worker/consumer co-op, in partnership with Carolina Common Enterprise, and a start-up Food Co-op with support from Winston-Salem's local Food Consortium and guidance from the Fund 4 Democratic Communities. Newcomer to the Cooperative community, Dee brings a world of grassroots organizing experience, entrepreneurship and marketing savvy to the new Winston Works! Co-op Academy.
Jonah Fertig

Jonah Fertig is a cooperative developer with the Cooperative Development Institute in the rural cooperative services program, focusing on cooperative food systems.  He works with farmers, food producers, cooks, distributors, and community members to develop democratic businesses. He is a co-founder and board member of the Maine Farm and Sea Cooperative and has served as a development coordinator for the nation's first farm&sea-to-institution cooperative.  Previously, he co-founded Local Sprouts Cooperative in Portland, Maine and helped develop it into a successful worker-owned cafe and catering business that also provides learning programs. He is a certified peer advisor with the Democracy at Work Network (DAWN). Jonah most recently co-founded the Greater Portland Community Land Trust and was a founding member of the Mayor's Initiative for a Healthy and Sustainable Food System, as well as Cooperative Fermentation, a project of the Resilience Hub in Portland. He lives with his two kids and partner at Celebration Tree Farm in Durham, Maine.  
Mariela Quesada Centeno

Mariela Quesada Centeno was born and raised n San José, Costa Rica, in a traditional household with her extended family.  There was not a moment of silence in her house.  Her childhood gravitated around the kitchen table, farmers makers, making homemade tortillas and gallo pinto (Costa Rican staple dish). 
In 2002, during her third year in the School of Veterinary, she had the opportunity to work as a research assistant at the USGS National Wildlife Health Center in Madison, WI, where she stayed.  After five years in academia, she decided to transition to the non-profit sector, and for two years served as the Latino Outreach and Education Coordinator at the Gene and Linda Farley Center, working directly with minority farmers in Wisconsin and the Midwest.  Then, while pursuing a Masters in Public Health, she decided to focus on systems that counteract food insecurity, poverty, ill health, and poor dietary intake.  Currently, Mariela sits on the Dane County Food Council, and is a member of the Community Advisory Board in the partnership between UW-Madison and the Southside Neighborhood.  In her role as the Director of Adult Programs at Centro Hispano, she interacts with multiple community stakeholders, helps create bridges between the Latino community and other organizations, and is exploring opportunities for worker cooperative development in the Latino community.
Najari Smith

Najari Smith is a lifetime active transportation advocate and one of the worker owners of the Rich City Rides Bike Skate Collective, a bicycle and skateboard shop in Richmond, CA. Najari's platform and position as long time member and current chair of the Richmond Bicycle and Pedestrian Advisory Committee has successfully ushered in miles of bike lanes and additional bike ped infrastructure. In 2012 he founded a bicycle organization to engage and reintroduce the local community to the benefits of riding a bicycle and has since led over 200 group social rides.
Through his community work he saw a need for more gathering spaces in his city and through this need he identified opportunities for local business creation. Najari's vision for combating displacement and eradicating poverty is based on community stakeholdership that focuses on the development of community-controlled resources. His desire for more democratic worker owned enterprises led him to become a member of the advisory board of the Richmond Coop Incubator, an organization focused on creating worker owned and community owned enterprises.
Paul Chander

Paul Chander is the Lowenstein Law Fellow at the Center for Community-Based Enterprise (C2BE), a non-profit cooperative development center in Detroit, Michigan. Paul is passionate about advancing economic justice through building worker cooperatives, solidarity economy, and economic democracy. At C2BE, Paul provides technical legal assistance, conducts education, and facilitates collaboration with community-based entrepreneurs to build a network of locally rooted enterprises in a cooperative ecosystem. Paul is especially interested in shepherding organic cooperativism to scale and sustained business viability, with a focus on African-American communities and grassroots organizations. Paul graduated with a B.A. in political science and a minor in public policy from UCLA, where he founded the General Relief Advocacy Project. After working as a political organizer, Paul graduated from Columbia Law School, where he co-founded the Student Public Interest Network. He also completed coursework at Columbia Business School. In his free time, Paul writes and raps.
Peter Frank

Peter Frank is the Executive Director of the Philadelphia Area Cooperative Alliance (PACA), a cooperative whose members are co-ops in the Philadelphia region. PACA works to grow the cooperative economy by strengthening democratic organizations, creating quality jobs, building community wealth, and reducing poverty. Previously, he served as organizational development coordinator at Mariposa Food Co-op in West Philly. Peter worked as advocacy coordinator for Cooperation Works, supporting legislation introduced to the U.S. House of Representatives to develop co-ops in underserved communities. Peter lives in Philadelphia's East Kensington neighborhood with his wife, Emily, and son, Arthur. Peter and his neighbors are in the process of launching the Kensington Community Food Co-op.
Tori Kuper

Tori Kuper is dedicated to growing people, business, and community. In 2014, she turned a scrappy urban baking project into BreadHive Worker Cooperative, a popular worker-owned sourdough bakery successfully capitalized through a community direct public offering/DPO. Most recently, she co-founded WorkHive, Buffalo's first worker cooperative development center, which is set to launch in Summer 2016. Tori wrote the Worker Cooperative Resolution adopted by the Buffalo Common Council, and is currently working to advance statewide legislation to support worker cooperative development. She was introduced to co-ops through the housing sector, where she was President and Treasurer of Nickel City Housing Cooperative, and also served on the Boards of NASCO Properties and NASCO Education. Tori has led several co-op themed workshops, lectures, and trainings over the last several years. She earned her MA in Performance Studies from New York University, where she studied the intersection of power, oppression, and subversive performance in movements for social change. Currently, Tori's primary interests include leadership development and strategies for building a cooperative culture. In addition to being a cooperator, Tori is a teacher, facilitator, community builder, youth mentor, brunch connoisseur, fire spinner, partner, and mom.
Tyler Jenkins

Tyler works full-time at Carolina Common Enterprise. His responsibilities include managing operations for technical assistance to a statewide network of budding cooperative enterprises, providing strategic relationship and network building to support cooperative development, and providing direct assistance through business coaching and facilitation.
Tyler grew up and attended college in Mississippi, before earning a graduate degree from Emory University in public health, with a focus on theory of social change and global health education. Tyler moved to North Carolina in 2012, where he took up an apprenticeship with a pasture-raised livestock and organic produce farm in Efland, NC. Tyler has experience in day-to-day livestock management and vegetable production, as well as planning farm business operations.
His previous work includes coordinated investment of federal public grant dollars in a 10-county region for the State Department of Health and Human Services, managing an outdoor education camp, and conducting public health research and focus groups in Baltimore, Maryland. 
Xochitl Espinosa

Xochitl Espinosa is the Cooperative Project Manager/Developer at Telpochcalli Community Education Project, a grassroots organization based in a predominantly immigrant Latino neighborhood in Chicago. She has been actively organizing and training a group of immigrant women who have founded "Las Luciernagas", a food catering cooperative. Over the span of her career, she has been involved with several immigrant rights organizations. Most recently, Xochitl worked as a Program and Operations Manager for the National Alliance of Latin America and Caribbean Communities (NALACC). In this role, she worked with organizations both here in the United States and in Latin America, organizing outreach campaigns and leadership trainings. She also served in Peace Corps as a small business development volunteer working with artisan women and high school students in Benin, West Africa. Xochitl has an advanced degree in international public service from DePaul University and has practical knowledge of key issues relating to community empowerment, organizing and policy advocacy.
Yacanex Posada

Yacanex Posadas is a local community leader and activist whose passion is to help low-income communities in San Jose, California. His successes stem from his experience as a Small Business consultant and instructor. Yacanex worked in high tech, consulting and local community advising which has enabled him to effectively help Latino Small Business owners, his primary focus. His work as a Small Business Development Center (SBDC) advisor is to provide free business advising to small business owners.  He wants to expand his toolkit to include worker cooperatives.
Yacanex is seasoned in many fields including marketing, operations, and starting businesses from the ground up.  From street vendors, to restaurants, the diversity of businesses served in these communities has resulted in economic empowerment to many families. His background in the tech sector includes working for McAfee in Global operations and at Intuit in Business Unit Finance as well as Finance Operations.  As an instructor, he teaches a 9-month course for high school youth that focuses on leadership and technology. Students develop skills and participate in a project that allows them to provide free website development, and online marketing to small business owners in the community to practice what they've learned and to give back. 
Zen Trenholm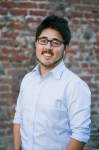 Zen Trenholm is the Local Initiatives Organizer at the Democracy at Work Institute. Having organized for climate and economic justice as a student, he continues to work with other youth to advance regenerative and equitable economies through his role as a Core Member of the USA Cooperative Youth Council. He co-founded the course, Cooperatives: Alternative Business Models for a Resilient Economy, at UC Berkeley where he also co-founded the Student Environmental Resource Center to cultivate student-driven sustainability campaigns and programs. He previously served as Development Director with the California Student Sustainability Coalition and as a board member with the Berkeley Student Food Collective and the Cooperative Food Empowerment Directive. Zen holds a Bachelor's in Cooperative Business Development from the University of California, Berkeley.