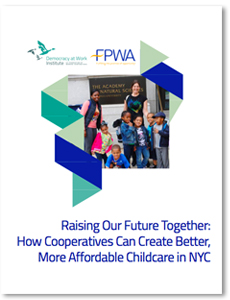 The development of worker cooperative child care providers, from centers to in-home providers to nannies, should be included as part of a long-term strategy to address affordable childcare in New York City. This report, co-authored by DAWI and FPWA, spells out key recommendations that the Mayor's office and City Council could implement to increase access to child care while increasing the quality of child care jobs.
Quality child care is increasingly out of reach for most New Yorkers, with commercial rents rising, government support stagnating, and high child care worker turnover.  Young families struggle to afford raising children in the city. Lack of affordability is matched by an equally intense closure crisis of existing childcare centers.
The worker-owned business model has been shown to be particularly strong in the care sector, demonstrating positive impacts from greater employee longevity to higher customer satisfaction. Building on the success of New York City's Worker Cooperative Business Development Initiative, we see an opportunity to leverage these strengths to provide not just better jobs but also better care for the nearly half-million children under age 5 and 2 million children under age 18 in New York City.
Submitted by momanklang on November 28, 2017